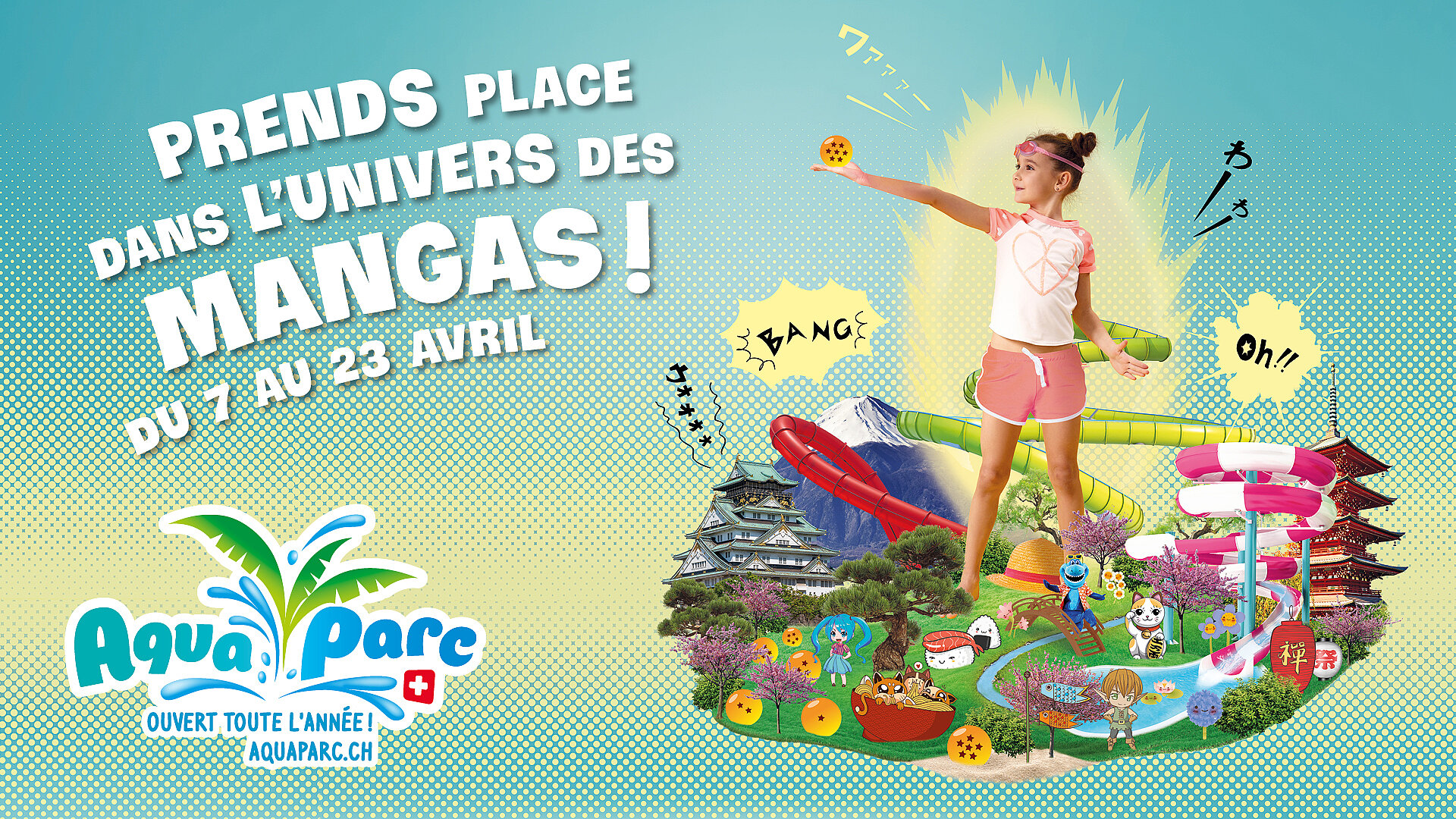 From the 7th to the 23rd of April, take your place in the world of Mangas !
For the April holidays at Aquaparc: Manga and Chocolate activities!
The Easter holiday period traditionally rhymes with egg hunts and (often excessive) chocolate consumption. This year is no exception to the rule and your favourite water park has put together a colourful and delicious programme of activities.

To echo the unmissable Polymanga event that takes place every year at this time, Sharky and his friends will take you into the world of manga, among the most popular stories of the genre.

Go in search of the 7 Dragon Balls that Shenron the divine dragon hides every day in the park. Without Bulma's dragon-radar the task will be difficult but the game is worth it, great gifts await those who find one of the 7 crystal balls.

Another popular universe among manga fans is One Piece. The famous boy with the straw hat will take control of our pirate ship during the holidays and offers you to go with him on two adventures. The first will consist of opening a treasure chest whose code only he knows, the lucky one who will discover the winning combination will leave with a Swatch collector's edition watch on his wrist. If you fail, Luffy will suggest that you go in search of one of the 10 keys that he hides maliciously in the park day after day. Each key corresponds to a chest and each chest to a gift!
You don't feel like an explorer and prefer an animation where you win every time? Then head for the Ninja Wheel in the early afternoon next to the wave pool. If you hit the right spot, you'll be able to leave with one of the big prizes, otherwise Sharky and his friends will be happy to offer you a small gift to brighten up your visit.

And what about the chocolate? Our partner Chocolats Villars is offering the youngest children the chance to go on an egg hunt hidden in the Sharkyland area and exchange the eggs collected for chocolate! It remains to be seen whether the children will agree to share with their parents.

New this year: the presence of 5 manga photobooths in the park. With your family or friends, take a picture of yourself in front of our 5 manga decors and share the pictures on Facebook or Instagram by tagging the Aquaparc page and enter the draw for a chance to win a VIP day in the park in our new cabins!